December 29, 2021 Posted by ASHARIO CANNABIS
INFUSED HOT CHOCOLATE
Celebrate the season with a cannabis holiday recipe from Ashario! Our infused hot chocolate is easy to make in just a few minutes.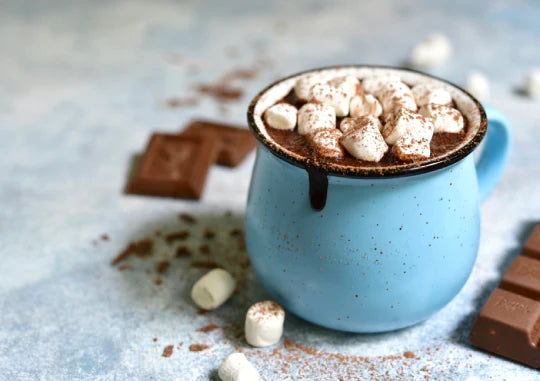 Prep Time: 5 minutes
Cook Time: 10 minutes
Serving Portion: 4 servings
INGREDIENTS
4 cups of your favorite milk or milk alternative
4 pieces of our cannabis infused Chocolate
1/2 teaspoon of peppermint extract
1 teaspoon of vanilla extract
Optional: whipped cream, marshmallows, crushed Peppermints
Cannabis Holiday Recipes: Directions for THC Hot Chocolate.
This recipe only requires a few minutes of your time and a handful of ingredients!
1. Cannabis Hot Chocolate Instructions Begin by stirring the milk and Chocolate together in a medium-size saucepan.
2. Cook over low-medium heat. Stir occasionally until it begins to simmer and the chocolate bar melts into the milk. Be careful not to let it boil! If heated too long or too hot, the chocolate may burn on the bottom of the pan.
3. Once the chocolate has melted, remove from heat and add the vanilla extract.
4. Serve warm with any additional toppings you desire. We love adding whipped cream! Now, you can enjoy your cannabis-infused hot chocolate.
Ashario Cannabis Infused Chocolate Recommendations
Our chocolate is made with premium ingredients for a luxurious taste.
New to edibles? Read our blog 7 Things You Need to Know About Edibles before you indulge.
Cookies and Cream White Chocolate
Here at Ashario, we're big fans of chocolate. So our first cannabis holiday recipe of the season is our infused hot chocolate. Made with our premium Chocolate collection, this decadent cannabis-infused hot chocolate will have you drifting off into a restful winter slumber after enjoying your favorite holiday movie.